Dressage can certainly be intimidating and there are a lot of misconceptions out there. To many, it looks like a boring, expensive sport for the rich. Dressage is more than that! In this article we'll discuss five misconceptions about dressage and explain how awesome it really is!

If you were to ask a horse person to explain dressage you'd probably get the standard response of "horse ballet" or "one of the three olympic equestrian sports". Most riders know it's important and that they should spend more time learning dressage, but they just don't know where to start or they have a bad experience and give up.
1. All Dressage Riders are Divas
The world is full of stereotypes and the horse world is no different. If you were to ask a horse person to describe the typical dressage rider, they'd probably reply with "queen", "diva", "fashionista", or "perfectionist". But not all dressage riders relate to those descriptions or fit into that mold.

There's often a negative assumption that dressage riders can be prissy and snooty, and there may be some truth in that. After all we do refer to ourselves as "Dressage Queens" and "Dressage Divas" – just saying. Unfortunately, those beloved titles may be interpreted by those outside of the dressage world two totally different ways.

What exactly is the definition of a "Diva" ? Well there's a couple definitions out there. Merriam Webster defines the term as "a usually glamorous and successful female performer or personality". Cambridge Dictionary on the other hand describes a diva as "a woman who behaves as if she is very special or important". Let's just leave that right there….

Anyway, we've all had the misfortune of encountering a person like the second description and probably felt embarrassed for their behaviour on behalf of the dressage community as a whole. Not all dressage riders are like that so please don't judges us based on that one weirdo!

Everything about dressage is beautiful and elegant- even the clothes. You have to buy breaches, so they may as well be cute, right? However, trying to keep up with the whole matchy-matchy dressage trend can get out of control. Not all dressage riders own a closet full of $200+ breeches, multiple pairs of custom boots, or matching polos and saddle pads for every day of the week.
2. You Have to Be Rich
Something over the last few years seems to have shifted. Dressage isn't thought of so much as a way of training horses, but more so of a sport for the elite. Magazines and social media showcase all the frills and accessories. Images of out-of-this-world facilities, designer riding clothes, and horses so fancy that they make you drool are everywhere. However, all of that is simply a snippet of the dressage community as a whole.

The majority of dressage riders don't own multiple FEI horses or ride in pinterest worthy indoor arenas. Most people can't afford a horse with a price tag the size of a middle-class American mortgage. A good portion of the dressage community is simply doing the best they can with the best horse they can afford because they love the journey that dressage has to offer.

Yes. You need money to go and buy a fancy farm in the center of Welly World or import a Grand Prix horse from Europe. But you don't need to be wealthy to do dressage, enjoy your horse and tackle your riding goals.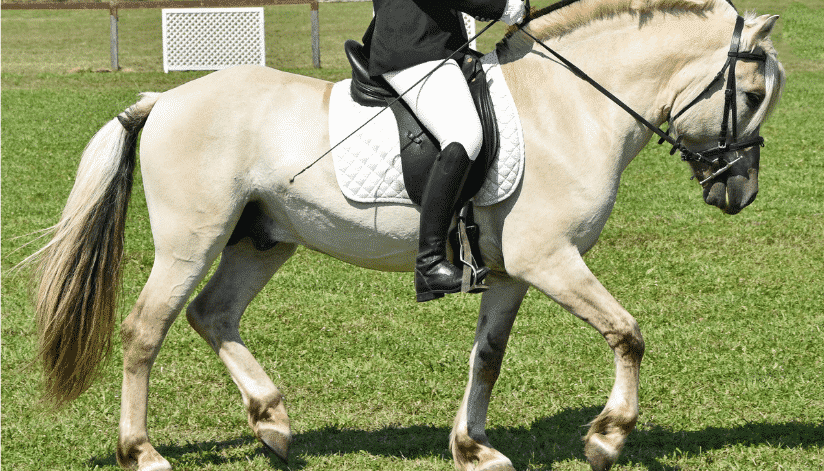 3. You Have to Have a Warmblood
Some horses are simply better suited to competitive dressage such as the warmblood and baroque breeds. However, that doesn't mean that you have to have an expensive, imported horse to enjoy dressage and be successful.

Dressage is the foundation of all good training and can improve any horse's abilities. Don't let the fear that your horse isn't talented enough cause you not to give dressage a chance. Your horse may only have a "6" medium trot, but there are probably other areas where your horse has the potential to score higher. Find out what those strengths are, focus on that and stop worrying about the limitations.

Every horse has something to teach and can improve something about our riding and understanding of dressage. Riding goals are a good thing to have. They help us plan and keep us motivated. Here are a few helpful things to keep in mind when bringing along a dressage horse:
Success takes time and can't be rushed
Progress over perfection
Horses don't understand how much we pay for them or spend on them
4. Dressage is Too Complicated
One of the best things about dressage is that the learning is never over. You could literally spend two lifetimes studying dressage and horses and still not know everything. You can even reach the top with one horse, start all over again with another horse and learn something totally new. It is a complex and magnificent sport that is challenging, humbling and rewarding.

There are many aspects of learning dressage, but two areas that all good riders continually seek improvement are theory and practical application. Learning dressage theory may sound like a drag to some, but once you've seen how it explains and connects every stage of training you won't be able to get enough of it.

Many people try to make dressage out to be a mystery that it's not. Becoming a good dressage rider takes time and practice. Sometimes the hardest part of riding is actually physically doing what you know you should do. Dressage comes more naturally to some, but it is a skill that any rider can learn if they are willing.

5. Dressage is Boring
Dressage has a bad rap for being boring. Akin to watching golf. Like watching grass grow or paint dry. Be honest, you've heard all of those before or maybe even thought them yourself! We've all experienced the stuggle of explaining what's going on in the dressage arena to our non-horsey friends and family.

At first glance, dressage may not seem like the most spectator-friendly sport in the world – until you see a Freestyle! And there is nothing like watching a spectacular Grand Prix Freestyle performance.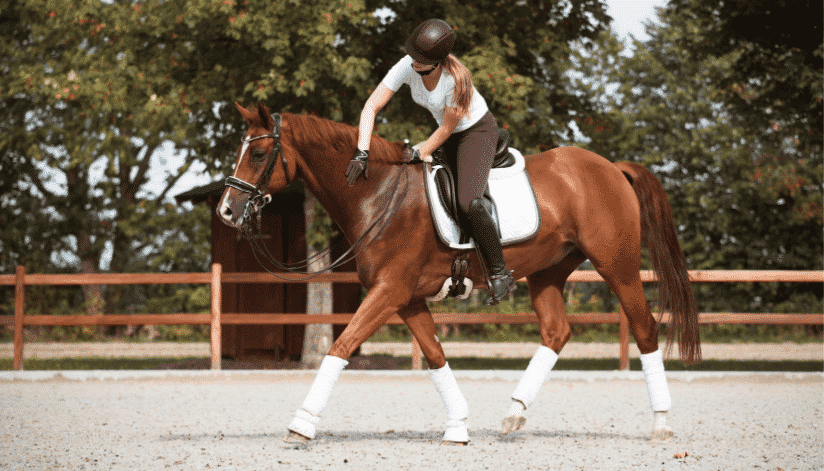 Dressage is a unique sport for all ages and levels to enjoy. From Dressage4Kids to the Century Club, there is a program for everyone. The dressage community is growing and there are lots of opportunities to get involved on local, regional and national levels. Volunteering at horse shows and attending clinics are great ways to meet new people and keep up with what is going on in your area.

Dressage is fun because it helps improve your riding so that you can enjoy your horse even more. When you start to learn dressage and begin seeing results, it becomes addicting. Dressage will always challenge you and has the ability to give you a fresh look on your riding.

X Halt Salute
Dressage isn't about all about bling, expensive clothes, and fancy horses. It can be an expensive sport but there are ways to enjoy it without breaking the bank.

Real dressage is about becoming a better rider and learning to help your horse become the best it can be. It's easy to get turned off by negative opinions and bad experiences. Remember, it's not an easy sport but it's totally worth the hard work. Don't ever forget why you started and enjoy the ride!


Latest posts by Jenna Brown
(see all)